Hello there bloggers!!
Well what a first week off school and wow did it so fast! We have been busy bees around and about the house with a few visitors too :-) Brilliant!
I finished my exchange gift for
Margaret Sherry Lovers blog
but I cannot show you a photo until the person received my parcel.
I also started
this
(Dictionary of Technology) for my son James, who is in Spain at the moment with my mum and dad and also my sister Helen and her 16 years old twins. By the sound of his BBM's (Blackberry Messages ... like text messages) he is having a load of fun!! This is his reward for completing his 1st year of A-Levels and the twins finishing high school!! Wow time certainly is flying these days!!
I will post a photo of my progress so far when I have better light to take the photo as my camera does not like lamp light .... fussy thing lol!!
Has anyone been watching the Tennis? Well that has really slowed my stitching down because of the exciting matches :-) Two great games yesterday I must say! So no stitching was done today plus kiddies had me all over the place haha! There was no point even trying to get my stash out!!
Have a great crafting time
Bye for now
Love me
xxxxx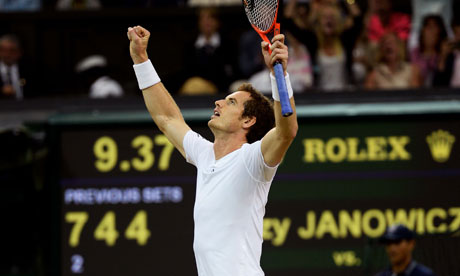 Come on Andy!!!!



Photograph: Mike Hewitt/Getty Images